Free Cloud Licenses for Teachers and Students !
Microsoft 365 Education provides free licenses for registered educational institutions. And the licenses are available for both faculty and students. Critsit Technologies can assist you procuring these licenses and also the overhead of setting up the cloud services, managing and virtually all technical tasks will be handled by our expert team.
Microsoft 365 Education is Microsoft Cloud that empowers the teachers and students to learn together using Office tools (like Word, Excel, PowerPoint etc.) Email option with up to 50GB storage & more while your files can be stored in OneDrive with up to 1TB storage !!
Access to lot of other great tools like : Sway, Groups, Teams, SharePoint Online etc. to ease/automate day to day activities.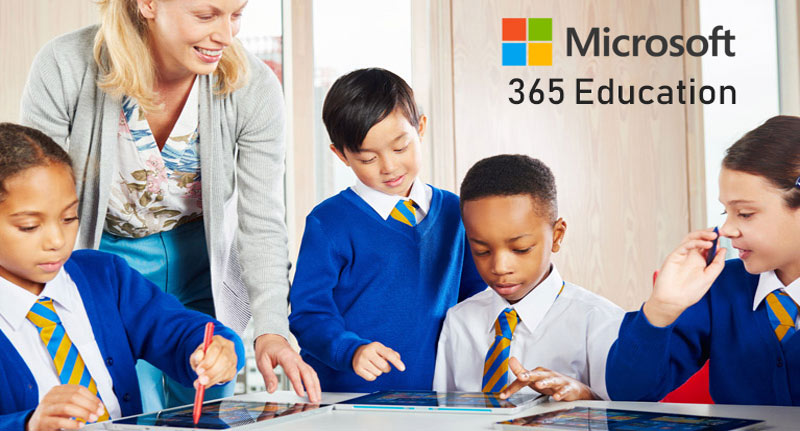 What do you get with Microsoft 365 Education license ? Here is a quick look at the services included with this license and a very limited insight as to what are the benefits of these services. Contact us to schedule a detail session to help you with Used Cases and specific benefits.
Exchange : 50 GB Mailbox — Can be used by teachers and students to send emails within the School. For booking meeting/appointments with each other OR the teachers can even use to book appointment with Parents and Vice Versa.
OneDrive : Provides 1 TB (1000 GB !!) of storage to begin with which can be extended to upto 5TB. This is available to each student and faculty who have been assigned with the license. This personal storage can be used by teachers to store Class Attendance, Marks, Results, Projects etc and share it with others in and outside of school as needed. Students can use it to store their projects and other related learning material.
SharePoint : Schools very own internal site which is secured and cutoff from people outside the schools domain. However you may choose to share certain pages/documents stored here with Parents or others outside of the school. Not just that, teachers can use this to store Question Papers etc securely ensuring no one gets access to it and then share it with students to conduct online tests/exams !
Skype For Business & Teams : This is like Schools very own secured and moderated WhatsApp and a bit more! This is an Instant Messaging Service from Microsoft. But the benefits of Teams are seamless. It can be used to host group discussions, live sessions for students who are unable to attend school for medical reasons, share documents for collaboration between classroom and many many more such amazing benefits.